Season 1 aired from January 8, 1996 to August 12, 1996.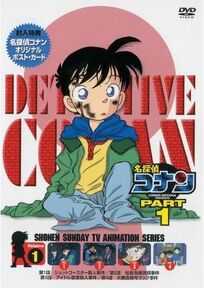 List of episodes
Edit
The following is a list of episodes for Season 1.
Jap#
Eng#
Episode title
Original airdate
English airdate
Plot
Manga source
Next Conan hint
1
1
Roller Coaster Murder Case
January 8, 1996
May 24, 2004
V1 - F1
Skyscraper
Shinichi Kudo uncovers a murderer along with the police at a party. Later, Shinichi and Ran Mouri take a trip together to an amusement park, where a man is murdered during a roller coaster ride. Shinichi deduces that the people in front and behind the victim are the suspects. Shortly investigating the scene, he reveals the murderer to be the man's ex-girlfriend. After the case Shinichi spots two suspicious black-clothed men. He decides to follow them and witnesses a deal taking place but is attacked from behind. The two men, intending to kill him, force him to swallow newly developed poison.
2
2
Company President's Daughter Kidnapping Case
January 15, 1996
May 25, 2004
V1 - F2~F5
Ice
Shinichi wakes up as a young child due to the effect of the poison. After running into Professor Agasa he decides he must hide his identity or those men in black will come back to finish off those connected to him. Shinichi renamed "Conan Edogawa" is placed in the care of Ran and her father, Kogoro Mouri who owns a detective agency which may allow him to gather information on the men in black. Kogoro receives a case to find a man's kidnapped daughter, Akiko. Conan drops subtle hints for Kogoro to solve the case revealing Mr Asao, the butler, to have kidnapped Akiko. A phone call reveals Akiko has been kidnapped again. Conan follows the clues from the phone call and is able to locate her. After arresting the kidnapper, Akiko reveals she asked Asao to fake a kidnapping in an attempt to get her father away from work to spend time with her. The father asks Asao to arrange a vacation for him and Akiko. Kogoro, happy to have solved a difficult case, allows Conan to stay.
3
3
An Idol's Locked Room Murder Case
January 22, 1996
May 26, 2004
V1 - F6~F9
Neon sign
Conan at school meets up with Ayumi Yoshida, Mitsuhiko Tsuburaya, and Genta Kojima. The three decide to follow Conan home and make him one of their friends. Later Pop Idol Yoko Okino arrives at Kogoro's Detective Agency claiming that a man is stalking her. Once there, they find a man with a knife in his back dead. The man was revealed to be Yoko's high school boyfriend, making Yoko one of the three suspects. Conan investigates and finds out how the crime was committed. He knocks Kogoro out by kicking a cigarette tray to his head and using his voice-changing bowtie, uses Kogoro's voice. As Kogoro, he reveals the man killed himself by placing a block of ice with a knife inside it, then lying on top of it until the ice melted causing the knife to stab through him. That night, Conan gives Ran a call and with his bowtie, using Shinichi Kudo's voice. He tells Ran he is on a difficult case and will return when he solves it.
4
4
The Coded Map of the City Case
January 29, 1996
May 27, 2004
V4 - F7~F10
Cell phone
After a day at the museum, the Conan and his friends find a piece of paper with symbols and the word "Oro" written on it. Conan believes that it is a treasure map after he discovers "Oro" means gold in Italian. Following clues, they find gold coins hanging from the ceiling of an abandoned building, but they interrupted by a gang from the Italian mafia. With Conan's quick thinking, they are able to capture the men. Later, Ayumi gives Conan a kiss, thanking him for saving them as Mitsuhiko and Genta stare jealously.
5
5
The Shinkansen's Bomb Case
February 5, 1996
May 31, 2004
V4 - F4~F6 (h.a.)
Chocolate
Conan runs into the two men in black from before on the Shinkansen bullet train. Upon investigating, he finds out they only resemble the two men. Using his new glasses and a bug Conan overhears their conversation about a bomb in a black suitcase on board. Conan is able to narrow down the location of the suitcase leaving four suspects. He is able to figure out who has the bomb at the last moment and with his new shoes invented by Agasa to increase kicking power, Conan manages to kick it off the train just in time.
6
6
Valentine Murder Case
February 12, 1996
June 1, 2004
TV Original
Bar code
Ran is invited to a Valentine's party and Conan, jealously, follows her. The host, Katsuhiko Minagawa, falls dead from poisoning. Conan investigates and finds out that he was poisoned from the coffee served to the party guests. Conan uses his newly acquired wristwatch that shoots a tranquilizer dart to put Kogoro to sleep and with his voice changing bowtie, pretends to be Kogoro. Using Kogoro, Conan reveals that Katsuhiko's adopted mother did it for the insurance money by putting poison in the coffee and that the cake everyone else ate excluding Katsuhiko was the antidote to the poison.
7
7
Once-A-Month Present Threat Case
February 19, 1996
June 2, 2004
V3 - F7~F10
Ball-point pen
Once a month for the past two years, a surgeon named John Woodman has received toys and money totalling up to 25 million yen anonymously. He asks for Kogoro's help to find whoever is sending them. With Conan's suggestion, they check John's history of operated patients. During the investigation Ran begins to suspect that Conan is really Shinichi. When Conan tries out a video game that John received, he realizes that it belonged to a child, named Tommy Oswald, that died during an operation led by John three years ago. He realizes John's child, Joseph Woodman, may be in danger. They find Mr Oswald, Tommy Oswald's father, and Joseph at the park just in time to prevent him trying to murder Joseph in vengeance. John decides not to push any charges and comforts Mr Oswald about his son's death. That night, Conan manages to deceive Ran about his identity by getting Agasa to call her as Shinichi.
8
8
Art Museum Owner Murder Case
February 26, 1996
June 3, 2004
V4 - F1~F3
Disposable camera
There are rumors that a mysterious ghost knight is roaming the local art museum, and Ran wants to check it out. When they go to check out the 'Hell' exhibit, they find Mr Minaka, the manager of the museum, has been stabbed to death by the ghost knight. Upon investigation, Conan realizes that the murderer moved the paintings before hand to avoid splattering them with blood. He realizes that the museum's director, Mr O'Donnell, was the culprit. Conan drops subtle hints to show Kogoro O'Donnell is the murderer. O'Donnell reveals that he killed the manager
9
9
Tenkaichi Night Festival Murder Case
March 4, 1996
June 7, 2004
V6 - F9 ~ V7 - F1
Video game
Conan, Ran, and Kogoro attend a Festival when Imatake Satoru, a famous writer, is murdered. Conan is certain that it was Sasai Norikazu, the murdered writer's partner. Sasai has a perfect alibi provided by photographs. Conan re-examines the photo and with other clues, proves Sasai to be the criminal. Using Kogoro, Conan proves the pictures are taken from the previous festival with the same camera and that he saved the camera until the day he could Imatake. As certain proof he shows that Sasai in the pictures taken that day did not wear a wristwatch. Sasai revealed that his first published work was stolen by Imatake and he murdered him in vengeance.
10
10
Pro Soccer Player Blackmail Case
March 11, 1996
June 8, 2004
V7 - F8 ~ V8 - F1
Sheet music
The Shounen Tantei talk about the Sunday Cup, a soccer tournament. They mention Uemura Naoki and Akagi Hideo of the Tokyo Spirits. Afterwards, Conan returns to the Mouri Detective agency to find a girl named Akagi Ryoko waiting in front. She asks Mouri to find Kudo Shinichi, saying that she was his girlfriend. Ran gets jealous and angry and decided to go to her house, but Conan notices some strange things and realizes that there was a kidnapping of Mamoru Akagi, Hideo Akagi's likettle brother. The kidnapper is later revealed to be Uemura Naoki, a fellow soccer player of Hide's. He kidnapped Mamoru because he believed that Hide injured his leg on purpose to stop him from surpassing him. After the solution, Ran calls Shinichi's cell phone, which he gave to Ryoko before, and chases Conan to an alley where she confronts him about Ryoko. At that moment Agasa drives up in his yellow beetle. Conan replies with word that somewhat suggest feelings for her and he hides in Agasa's car, escaping Ran sucessfully.
11
11-12
Moonlight Sonata Murder Case (1 Hour Special)
April 8, 1996
June 10, 2004
V7 - F2~F7
School festival
No summary yet
12
13
Ayumi-chan Kidnapping Case
April 15, 1996
June 14, 2004
V9 - F1~F3
¥1,000,000,000
While playing hide-and-seek in the park, Ayumi Yoshida hides herself in the trunk of a car and falls asleep. When she wakes, the car has already left the park, and Ayumi finds herself with a head of a girl wrapped in newspapers. Conan uses the new radio transmitters the Shounen Tantei received from Professor Agasa to get clues and find where the car is heading. They boys finally catch up to rescue Ayumi, but not before they find out the girl's head was prop for a play. Having knocked out one of the actors, Conan and his friends must take over his part.
13
14
The Strange Person Hunt Murder Case
April 22, 1996
June 15, 2004
V2 - F4~F7 (h.a.)
Calculator
A woman named Michelle Hamlet shows up at Kogoro Detective Agency and asks Kogoro to find her father, Kent Hamlet. Rearranging Kent's cat's name, they realize it's the name of a racing horse, and find him at a horse track. The next day, Kent is found dead and Michelle missing. Conan remembers that he accidentally placed a tracker on Michelle and tries to track her location but the batteries in his glasses run out. Later a detective is revealed to be tracking Michelle down for his client Aaron Hamlet. After Conan's tracker is recharged, they head to Michelle's location and find Aaron dead. Conan realizes that the Hamlets are connected to a billion yen robbery and that a disguised Michelle passed them in the halls. Conan follows her and finds her with her boss O'Brian. O'Brian, who plans to remove all evidence of his involvement, prepares to shoot her but is knocked out by Conan. Michelle reveals she left the money at the hotel and thanked Conan for his help.
14
15
The Mysterious Shooting Message Case
April 29, 1996
June 16, 2004
TV Original
Answering machine
The Shounen Tantei watch as a sniper shoots a balloon by the river, but Conan notices that the sniper is held at gunpoint by other men. When the Shounen Tantei get there, the gunmen are nowhere to be seen, but Conan finds a message on a calculator that the sniper left behind. The message is only decoded when Conan turns the calculator upside down to discover the location of the sniper. The gunmen, holding the sniper and his wife hostage, force him to try and assassinate an important political figure. Conan manages to stop the gunmen and save the sniper.
15
16
Missing Corpse Murder Case
May 13, 1996
June 17, 2004
V6 - F6~F8
Drawer marks
While looking for a missing cat, the Shounen Tantei find the cat covered and blood. Tracing the source, they find a dead corpse in a house. After calling the police, they investigate the house but the corpse is nowhere to be found. Conan returns at night to discover the cranky sleeping man that the police avoided during their search was the corpse. Conan realizes the culprit disguised himself as the victim in order to make he police believe the victim is alive. He manages to get the culprit's confession to the murder on the phone to the police and have him arrested.
16
17
The Antique Collector Murder Case
May 20, 1996
June 21, 2004
V6 - F2~F5
Elevator girl
An antique collector, Damien Marue, asks Kogoro to investigate his wife's affair, but he later found murdered. The crime scene is shredded by a sword and fake clues point to different people that had scheduled a meeting with the collector. Conan notices the drawers on the shelve are scratched and have been rearranged. Using Kogoro, Conan reveals that the shelves when rearranged back to their normal positions, spell the name of the murderer, Jacky Suuwa. Conan reveals that the victim sold his prized sword passed down from generation to generation in his family for money and killed him in a rage.
17
18
Hijacked Department Store Case
May 27, 1996
June 22, 2004
TV Original
Medicine capsule
The Shounen Tantei are accidentally locked inside a department store after hours when returning to retrieve an autograph's of Genta. That night, robbers try to rob the store. They are soon found out and with clever strategies, the Shounen Tantei are able to apprehend the robbers. In the end, they were awarded for capturing the robbers, and were absolved from paying food they ate and objects broke during their stay.
18
19
A June Bride Murder Case
June 3, 1996
June 23, 2004
V8 - F8~F10
Bouquet
Ran and Shinichi's old homeroom teacher, Catherine Mclaughlin, is getting married, but before the wedding even starts, the bride is poisoned when she drinks her canned juice. Several suspects are caught on video including Catherine's father, Kiyonaga McLaughlin and Tony, the groom. The fingerprint analysis show that some prints are missing from the can. Conan, using Serena Sebastian, reveals the culprit to be Tony. Tony reveals that Kiyonaga was the indirect cause of his mother's death. Catherine's friend proclaims to Tony Catherine knew about his past with her father but she married him anyways because he was her childhood love. Tony becomes enveloped in guilt but a message from the hospital reveals Catherine's surgery to be a success, leaving Tony to cry with happiness. Tony is sent to prison where three years later, he marries Catherine.
19
20
An Elevator Murder Case
June 10, 1996
June 24, 2004
TV Original
Creepy basement
Ran is invited to be a model for a fashion designer company. After they arrive, one of the company's employees, Megan, is killed in the elevator. Conan is certain that the company's owner, Ms Howler is the one who killed her but can prove how as Megan went directly to the 8th floor in the elevator while Ms Howler went to the 15th . Conan realizes how the murder was pulled and uses Kogoro to solve the case. Conan reveals that Ms Howler called Megan to come up to the 15th floor and killed her where she then placed Megan in the elevator and sent it to the 8th floor. Ms Howler reveals that Megan stole her clothing designs and sold it to her rivals and she murdered Megan in vengeance.
20
21
A Haunted Mansion Murder Case
June 17, 1996
June 28, 2004
V2 - F8~F10
Fu dog
Ayumi is walking home when she sees lights in an old abandon house where an unsolved murder took place several years ago. She convinces the Shounen Tantei to sneak into and explore the house. Genta and Mitsuhiko suddenly disappear leaving Conan and Ayumi following an old woman down a hidden stairs where they find a caged man. Conan's deduces that the man, who was the son of the murdered man years back, is being locked away against his will by his mother who refuses to let him confess to the police. Conan manages to persuade the mother that her son, Abraham, wants to confess for his crime and atone for it rather than live with the guilt. Abraham turns himself in the next day along with his mother with Genta and Mitsuhiko have been revealed to be outside sleeping. Later, the Shounen Tantei decide to investigate another haunted house which actually belongs to Conan.
21
22
On Location, TV Drama Murder Case
June 24, 1996
June 29, 2004
TV Original
Bread crumb
Yoko Okino is starring in a television drama and she invites Kogoro, Ran, and Conan to watch the filming. The cameraman named Mario is murdered and his dying message in kanji spells Shrine god. Conan notices that some of the words are dry while others are wet, revealing the dry message to spell Ringo, the name of one of the actors. Ringo reveals he changed the message to avoid being suspected of murdering Mario. Conan discovers the name was altered to frame Ringo and that the real name is under Ringo. Using Kogoro, Conan reveals that the name left by Mario is Tina. He reveals when Tina killed Mario, she did not notice the dying message. When he husband was her husband, Jerumia, was searching for her, he spots the message and changed it to frame Ringo. Tina revealed that she murdered Mario because he blackmailed her about her past where she indirectly caused the robbery of her grandfather's shrine and causing the shrine's supervisor to suicide.
22
23
Luxury Liner Serial Murder Case (Part 1)
July 1, 1996
June 30, 2004
V3 - F1~F6
Sketch book
Kogoro, Ran, and Conan miss their boat home from a vacation and are lucky to hitch a ride with the rich Hanamoto family on a private ship. The head of the Hanamoto family, Jospeph is murdered, and the evidence all points to Theodore who's father committed suicide when his company was taken over by the Hanamoto family. Theodore is forced into a locked cabin for suspicion of murder. Everyone in the family is interested in the Hanamoto inheritance but are shocked to find that a will was made and the inheritance was signed to Susanna, the Head's granddaughter. Later a Hanamoto family member, Shannon, is found dead and Theodore is missing from the storage room.
23
24
Luxury Liner Serial Murder Case (Part 2)
July 8, 1996
July 1, 2004
V3 - F1~F6
Pendant
Conan finds the crime scene of Joseph strange and believes that Theodore is being framed. The boat's power is suddenly switched off and Lucus, a grandson of Joseph, is stabbed in the dark. Everyone is suspicious of one another and accusations are thrown around. After looking in each of the rooms searching for Theodore, Conan finds the evidence to prove Theodore's innocence and the culprit guilty. Conan uses Kogoro and proves Lucus is the murderer and that his motive was because he was in love with Susanna, who became engaged to Theodore. Lucus revealed Joseph rejected his proposal for marriage with Susanna and humiliated him. After learning of Theodore's past, Lucus murdered Joseph and framed Theodore In the end, Theodore talks to Susanna and tells her he planned to avenge his father but fell in love with her and gave up on revenge.
24
25
The Mysterious Woman With Amnesia Case
July 15, 1996
July 5, 2004
TV Original
Scuba gear
A woman named Maya has amnesia and stumbles into Kogoro, Ran, and Conan. After leaving the hospital with Maya a car almost hits them and a piece of a building almost falls on them. Conan suspects that someone is trying to kill Maya, but also finds the Maya is acting strangely. Later Maya regains her memories and remembers her duty was to kill Kogoro. Conan realizes the man who was thought to have targeted her was her client who's goal was to kill Kogoro. After Maya leads Kogoro to an abandoned warehouse, she attempts to strangle him with a wire but Conan manages to stop her by kicking a baseball through the wire. The assassin and her client are arrested afterwards.
25
26
The False Kidnapping and Hostage Case
July 22, 1996
July 6, 2004
TV Original
Conditioned response
Mr McMullin's daughter, Nikki, is being held hostage by a kidnapper who is demanding 500 million yen. The first transaction meeting fails when the kidnapper finds out McMullin called the cops about their meeting and escapes. During the escape, the van drives off the cliff and into the river. Conan finds evidence that the kidnapper escaped, but no evidence of a second person. Conan overhears the conversation between McMullin and his assistant Elizabeth and finds out McMullin is hesitant to pay the ransom for his daughter. McMullin decides to use fake money to try and trick the kidnapper. When he goes to meet the kidnapper with Elizabeth, Elizabeth reveals she is the kidnapper. Elizabeth revealed that when McMullin sent her father's company to bankruptcy, he caused her father to kill himself after murdering her mother and brother. Conan, who was hidden in the trunk of the car, persuades her to spare McMullin proclaiming she'll make Nikki suffer the same pain she did. Later Nikki was released and Elizabeth is arrested.
26
27
Pet Dog John Murder Case
July 29, 1996
July 7, 2004
TV Original
Gun
Conan is coming back from a restaurant with Ran and Kogoro when they hear a man scream. They enter the house and find a man has been jumped by a dog in the house, causing him to fall backwards off the stairs and into a wall. Pronounced dead, Conan suspects Charles Peterson, the owner of the dog called Jack. Conan suspects that Charles trained Jack to kill the man, Ted, who bulled his son, Micheal, causing him to suicide several years ago. Conan gives Kogoro subtle hints allowing him to solve the crime. Kogoro reveals that the dog was trained to attack when he hears nine chimes from a Longcase clock along with the voice of Charles. Charles reveals that Ted was forgiven in the past believing he would change from Micheal's death. When Charles saw Ted in the present, he finds out Ted remained cruel and cold. Feeling his son died in vain, Charles planned to murder Ted. Afterwards, Jack is spared from death and placed with a relative of Charles.
27
28
Kogoro's Class Reunion Murder Case (Part 1)
August 5, 1996
July 8, 2004
V9 - F4~F6
Benkei
Kogoro, Ran, and Conan are out walking when a robbery occurs. Conan and Kogoro are able to take down the robber and hand him to the police. A crowd gathered to watch the scene and Kogoro's friend, Jamie recognizes him. After talking about the Judo class reunion that is to take place that day, she leaves. While turning back, Conan and Kogoro realize the gun the robber had is missing. That night at the reunion, they plan to go out and watch fireworks. Kogoro's friends did not go leaving only Conan, Kogoro, and Ran. Jamie is missing from dinner so the Judo members go to her room to wake her up from her sleep. There, they find her dead from a gunshot wound to the head and in her hand was the missing gun from before. Kogoro realizes that burn marks are missing from Jamie's temple meaning that it was a murder and one of the Judo members is the suspect.
28
29
Kogoro's Class Reunion Murder Case (Part 2)
August 12, 1996
July 12, 2004
V9 - F4~F6
Cat
Conan recognizes two things strange about Jamie's body; the finger was not on the trigger and she was naked under her robe. Conan then realizes who the murderer is and plans to tranquilize Kogoro to solve the case. Realizing how determined Kogoro is on solving the case, Conan instead decides to drop subtle hints and let Kogoro solve the case. Kogoro solves the case, revealing that Jamie died much earlier and that exercise from table tennis caused her body to undergo rigor mortis much earlier. He reveals that the Judo member who murdered Jamie was Craig. Craig revealed that he was dating Jamie for eighteen years and he proposed to her multiple time but she always turned him down. When he became engaged to another woman, Jamie terrorized them both with threats. He revealed that he picked up the gun from the robbery earlier, seeing it as a sign to murder Jamie.
29
30
Computer Murder Case
August 19, 1996
July 13, 2004
TV Original
Cassete tape
Mr. Osgood, the Chief executive officer of a computer software company is found to have died from a heart attack. Conan finds it strange that Osgood was sweating alot in his death, and that flowers delivered the day before died. Conan notices that Ken, Osgood's driver, is he only one with a motive. While talking with Ken, he reveals he planned to start his own software company but became ruined due to Osgood. Conan realizes that the heart attack was caused by an extreme change of temperature in a short time. Using the bowtie, he uses his voice as Shinichi Kudo and calls Inspector Joseph Megure and Kogoro to Ken's house where Conan with subtle hints show that Ken is the murderer.
References
Edit