The Detective Conan keyholes, where on every Detective Conan volume. It shown certain characters from Detective Conan that had are play a role in the series. Every volume hase his own keyhole with a important person, Black Organization member, Familly, Friends, Detectives and so go on...
Volume now
Edit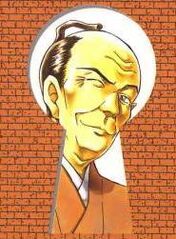 You might wonder who is this guy, this is the historical figure who always mentioned as the creator of various trapping devices. It is usually named in the cases because Jirokichi Kid has some widgets in this character as the safe and stuff. In recent chapters of the anime (Ep. 571 and 572) who made the store was delighted. Here is the picture, I think nobody expected that such a person out on a keyhole!
Volume Keyhole
Edit
Summined the other keyhole characters of Detective Conan drawing by Gosho Aoyama. The keyhole confirms a detective, a friend, familly or Black Organization members and co. Every volume got their own keyhole characters that plays a role in the Detective Conan series.