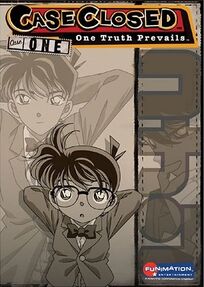 The anime series Case Closed is based on the Meitantei Conan (名探偵 コナン, Detective Conan) manga series by Gosho Aoyama. Originally titled Meitantei Conan in Japan, the English dub was renamed Case Closed due to unspecified legal concerns with the name Detective Conan. The series is directed by Kenji Kodama and Yasuichiro Yamamoto and produced by Tokyo Movie Shinsha and Yomiuri Telecasting Corporation. The episodes follow the adventures of teenage detective Jimmy Kudo, who has become a young child again due to a poison called APTX 4869. Renamed Conan Edogawa, he stays with the Moores and while hiding his identity, he helps solve murder cases until the day he can take down the Black Organization.
Case Closed has aired since January 8, 1996 on Nippon Television Network System in Japan. Funimation Entertainment have obtained license to dub the series into English which was officially confirmed on July 5, 2003. Fifty episodes of the English dubbed series aired on Cartoon Network as part of their Adult Swim programming block on May 24, 2004 until January 2005 and were discontinued due to low ratings. The dubbed series aired in Canada on YTV's Bionix programming block from April 7, 2006 until September 2, 2006.
Sixty-nine pieces of theme music are used throughout the series: twenty-eight opening themes and thirty-five closing themes in the Japanese animation and three opening and four closing themes in the English adaption. Several CDs that contain the theme music and other tracks of the anime have been released by Universal Music Group. As of March 2010, 18 seasons and 149 volumes in total have been released by Shogakukan. Five DVD collection boxes of the English adaption of the anime has been released by Funimation and contains the first to fifth seasons of the anime.
Season Listing
Edit
Season 1/4
Edit
Picture
Season
Music Theme
Ending Theme
Season 1

Episode 1/28

High-Lows - Mune Ga Doki Doki

Episode 1/28

Ziggi - Step By Step

Season 2

Episode 28/30

High-Lows - Mune Ga Doki Doki




Episode 31/52

Valvet Garden - Feel Your Heart




Episode 53 - current

Niho Komatsu - Nazo Mystery

Episode 28/51

Heath - Lovers of the Labyrinth




Episode 52 - current

Keiko Utoko - Hikari to Kage no Roman (Romance of Light and Shadow)

Season 3

Episode 55 - current

Miho Komatsu - Nazo Mystery

Episode 55 - 70

Keiko Utoko - Hikari to Kage no Roman (Romance of Light and Shadow)




Episode 71 - current

Deen - Kimi Gai Inai Natsu (Summer Without You)

Season 4

Episode 83 - 96

Miho Komatsu - Nazo Mysterey




Episode 97 - current

Zard - Unmei no Ruuretto Mawashite Spinning the Roulette of Destiny

Episode 83

Deen - Kimi Gai Inai Natsu (Summer Without You)




Episode 84

Miho Komatsu - Negaigoto Hitotsu Dake (Only One Wish)
Season 5/8
Edit
Season 9/12
Edit
Season 13/16
Edit
Season 17/18
Edit